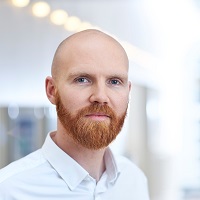 Thomas Bak Thellesen
Director Group Sustainable & External Affairs, Faerch
1.What will your presentation cover?
Our mission is to create a circular economy, where food trays are made from recycled material and are recycled back into new food trays of the same quality - again and again. This is not a distant future, as we already recycle PET trays back into food grade material, which we use to manufacture new food trays across our production sites. It allows us to offer food packaging made from up to 100% recycled content (Post Consumer) and recycle it back into food grade products.
A prime example of this is our Evolve by Faerch concept, which is made from collected and recycled bottles and trays and is available in naturally fluctuating tones. No extra colour is added during recycling and production, therefore reflecting the specific blend of recycled content that it is made from. This ensures a unique look, which clearly outlines to consumers that they have a sustainable choice, and it guarantees that Evolve by Faerch trays are reliably detectable using today's sorting systems, as they have already been detected before.
2.What´s your view on present consumer packaging?
There is a big recognition of the huge potential in a circular plastics economy, where we preserve the energy used in the raw material production and keep the material value in circulation, while phasing out waste and incineration. With a focus on more recycling and circulating this back into food packaging, we look towards lower CO2 emissions from the incineration plants and when comparing a 100% virgin material PET tray with a 90% rPET tray (recycled), we have reduced CO2 emissions by more than 50%.
3.What changes/improvements would you prefer to see?
European countries should impose an additional tax on food packaging that does not contain a minimum of 30% recycled material (preferably more ambitious). Additionally, more focus on mono-materials is needed, as these two things are essential if we are to have a circular plastics economy where our food packaging is recycled and processed into new food packaging – again and again.
We see a great need for progressive legislation, as collection and sorting at a European level needs to innovate/invest to reach a level that is satisfactory in 2020.
4.Describe your expectations for the conference.
I look forward to joining my Scandinavian fellows in insightful presentations and heated debates. We should lead the transition and innovation towards a more sustainable future and I believe 'PACK & PLAST' is a forum for like-minded people to share ideas and push agendas in the right direction.